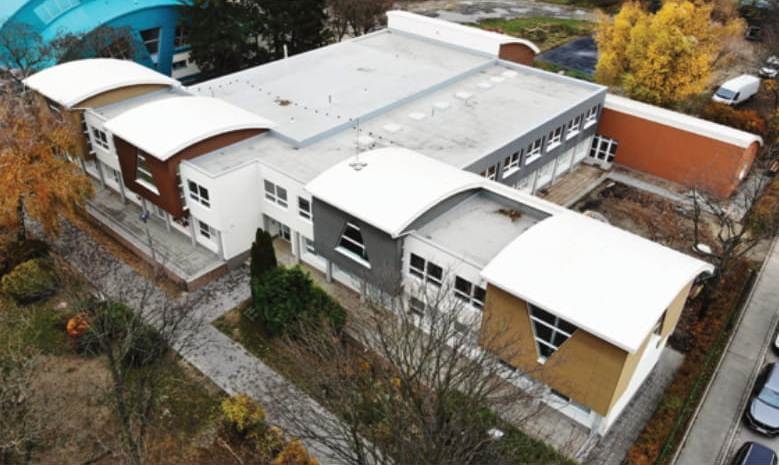 The Finalist of the International Construction Contest "European Award"
A reconstruction, storey addition and extension of the kindergarten in Záhorská Bystrica, Slovakia
The construction has met the investor's request to modernise and extend the kindergarten in a fast growing place in the most modern style. The project included a reconstruction, a storey addition and an extension of the kindergarten objects from the second part of the 20th century. This project by its suitable architectural design is very sensitive to the surrounding greenery and creates eye-pleasing and child friendly environment. All water distribution networks, paints, floors have been reconstructed and new lavatories have been built in the original objects. Instead of the original four classrooms, there are eight classrooms now. The total area of the reconstructed, added and extended parts is 645m². The project followed the original layout, but it was adjusted to new requests for emergency exits, access to the first floor for parents, the children's movement to the canteen etc. The external staircase has a lifting platform so the access to the whole object and to all classrooms is secured also for handicapped children. There are new classrooms in the storey addition part situated over the existing ones with acoustic ceilings and an optimal aspect regarding the cardinal points. The new extension on the eastern side creating an atrium space ideal for playing. There is a big canteen in the extended part that provided a solution to the unsatisfactory condition in the kindergarten. The architect designed unusual windows with interesting atypical shapes in order to make the kindergarten more attractive. The roofs are flat and arched, trapezoid and the round windows create a nicer visual and provide the rooms with better illumination of the interior by daylight. The load-bearing part of the construction is made of steel pillars that are built on reinforced concrete platforms anchored in the original base of the building. The construction started in November 2018 and was completed a year later.
KAMI PROFIT s.r.o. www.kami-profit.sk
A reconstruction, storey addition and extension of the kindergarten
Záhorská Bystrica, Slovakia